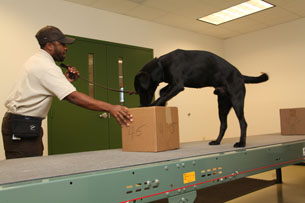 Atlanta Lab Rescue is proud to share two success stories with you today!  Both Dozer and Viper have been featured as detection dogs.  First is Dozer, who is now a part of the Sacramento County Agricultural Commissioner's Office in California.  Dozer works on a dog team that has intercepted thousands of mislabeled or otherwise illegal packages.  To read more about Dozer please visit California Department of Food and Agriculture article welcoming him to the team! 
I didn't think I wanted any of our dogs to be detection dogs. I wanted them all to be in a home and a part of the family and then we were invited to the training center in Newnan and saw the process and I was sold. The dogs actually get more people time with the handler than in most families and some dogs need a job. It's great to have this option for the dogs that are so high strung that they'll be hard to place.

-Becky Cross, Atlanta Lab Rescue Founder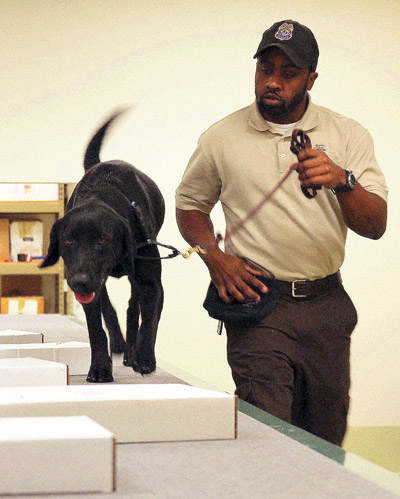 Wildlife Inspector Amir Lawal and Viper demonstrate how they'll be checking packages for illegal wildlife on the front lines of Fish and Wildlife Service law enforcement. Photo by Tom MacKenzie/USFWS.
Up next is Viper, check out this video from U.S. Fish and Wildlife Services Newsroom, sniffing out illegal Wildlife Shipments VIDEO:
The four graduating dogs and their Service Wildlife Inspector-Handlers completed the 13-week training course at the U.S. Department of Agriculture's National Detector Dog Training Center in Newnan, Georgia, half an hour southwest of Atlanta. The center normally trains detector dogs to sniff out fruits and plants to interdict potential insects or diseases that could hurt U.S. agriculture.
A special thanks from the Atlanta Lab Rescue crew for allowing us to share these success stories!