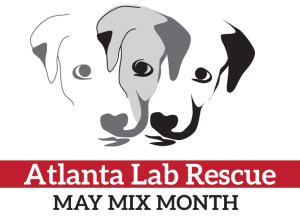 The Labrador Retriever has been the most popular breed in the US for 25 years, but did you know that mixed breeds actually hold the top spot making up 53% of al…l US dogs!
With mixed breeds holding the top spot, it also means that there are more mixed breeds in the shelters than any other dog, and in particular large breed mixes, which are the last to be adopted or rescued.
Each May, Atlanta Lab Rescue has our "May Mix Month" where we celebrate the Mix! While we will still have purebred Labs on the roster, we are going to concentrate on helping more of these deserving mixes find wonderful homes and as an adoption incentive, we will drop $50 off of the fee for a mixed breed.
Get ready for a parade of pooches on Facebook that are sure to make you smile!