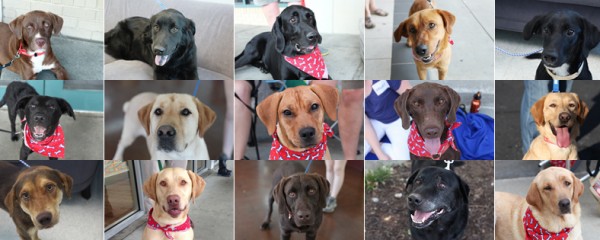 Confessions of a Rescue Addict
My name is Becky and I'm a Dogaholic. I keep bringing dogs in from shelters for ALR, even though we're out of money and space. I can't say "no" when 1 dog to be rescued turns into 3…after all, who am I to judge if the white patch is too big to be a purebred, or the tail curls up too much or if the ears are too short or too long. The majority of the shelters that we pull from are very rural  and we're the only chance these dogs have. That's a heavy burden to bear. So we take them into the program when no one else will and I lie awake nights, angry with myself and wondering what we'll do with all of them. Then I meet them. Every one of them beautiful in their own way and all clearly grateful and happy for a second chance, and I just know there is someone who will love them…and you prove me right.
My friends don't understand my addiction. I used to have a life. I traveled, dated, had dinners out and shopped for shoes and handbags. I tell my friends that clean houses, manicured lawns and beach trips are overrated when compared to puppy breath, big sloppy kisses and unconditional love.
And I remember how you all have supported ALR in all of our decisions to bring in the dogs hit by cars, the ones that had no lab in them at all, the heartworm positive ones that all the other rescues passed over and the ones that were old and broken. Each time we have come to you for help, you have come to our aid in truly miraculous ways, and
together we have accomplished unbelievable things for an unbelievable number of dogs. This is a picture of the file cabinets in the ALR office. There are 3 file cabinets with 4 drawers each, 12 drawers and they are PACKED full of these dogs. Dogs that were given a second chance to have the life that every dog deserves, thanks to supporters like you.
Unfortunately, all of this goodness doesn't come without a price and with two hip surgeries, three teeth extractions, two surgeries for obstructions, 28 dogs with heartworms in the last 3 months and a parvo pup this weekend, we are once again swimming in debt. Thankfully, several of our vets have extended credit to us, but the numbers are getting higher than they are comfortable with and we have to raise some money fast in order to "stay in business." So we are once again turning to you for help and asking everyone who gets this email to donate at least $5. We've had a $5 Friday twice before and you rallied for the cause each time, making it possible for us pay off the debt and continue to help more dogs. We hope that you will support us again and we have a wonderful volunteer who has agreed to match the first $1,000! You may donate by clicking the Donate button in this email, or if you prefer, visit our newly desgined website and click on the Donate button. Checks can be sent to the mailing address at the bottom of this email.
Thank you for making this rescue's mission possible!!!
Becky Cross
Director – Atlanta Lab Rescue
PO Box 250206   |  Atlanta, GA 30325
**Please click on the RED DONATE button the the right, thanks!  Or, on our GET INVOLVED page, thank!