As Forest Gump's momma would say, "Life is like a box of chocolates…you never know what you're gonna get." Nothing could be more true when you consider our "chocolates" for this month. Every shape and size, like a box of Valentine's candy, these dogs all have a different story and each are full of surprises.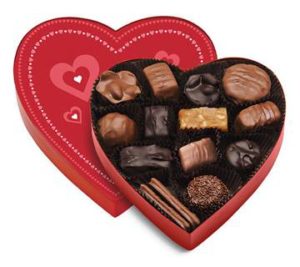 Our first boy, Cooper, was surrendered by his owner. No reason was given why this beautiful purebred 2 year old dog needed to be rehomed, but when we picked him up, we realized that he was obese and at least 20 pounds overweight. He is a typical goofball lab, but what we thought would an easy dog to place, as it turns out, will be more of a challenge to find the right home that will commit to getting this dangerous weight off of him.
The next chocolate to come in was Milly. Her owner had surrendered her to the shelter and again, there was no indication why, until we discovered that she had heartworms. She recently went to a foster, and Milly is literally the perfect dog. She should recover from the heartworms with no issues, but the high cost of the treatment will more than double our cost to rescue her.
Then there is Lucy B, a big beautiful 4 year old chocolate lab. The only surprise about her was why on earth she was in a metro area shelter on the list to be euthanized that day and no one had seen her and gone and adopted her??? Now she has a dozen applications to choose from…tells you something about the plight of even the most adoptable dogs at shelters…
Carmen was the next little chocolate nugget to come in. She had been at a shelter in Alabama for several weeks and was terrified of everything around her. She came in yesterday to board at Happy Paws Inn and has not left the plastic crate that she arrived in. Most rescues would deem her as "unadoptable," which is why she was at the shelter for so long, and why we were likely her only hope. The wonderful staff in boarding hopefully, can work their magic and draw her out, like they did Perry, another scared chocolate girl, who was returned by her owner earlier in the week. Carmen has a foster that will take her this weekend and we hope that she will somehow learn how to trust and to know what love is.
Finally, this week we brought in Tippy, an adorable 10 week old chocolate puppy that was surrendered to the shelter by her owners with an injured back leg. She sat there for 3 days and when it looked like no one else would step up, they contacted us. The orthopedic surgeon determined that the injury was older and that this poor girl had been living with a completely severed bone in her back leg for a couple of weeks! Tippy had surgery yesterday and while it wasn't an easy fix, the expert surgeons at Northlake Veterinary Surgery where able to repair it and think she will be good as new in a few weeks. Through it all, this brave little girl has been nothing but a bundle of love and kisses. She has a foster picking her up today.
These are all great stories, but each with a "twist" that collectively, cost us over $10,000. Rescue is risky and you take what you get and figure it out. We started ALR because too many rescues were walking away from dogs with medical issues, in particular heartworms, because of the expense. Why should an adoptable dog be left in a shelter to die because it's owner didn't care for it properly? And why should a dog with a treatable condition die? While more emotional than practical, that thinking has served us well for the last 10 years. ALR has rescued over 3500 dogs and with your help, we are still going strong.
Your donations, no matter how big or small, have added up to give all of these dogs a second chance. That's why we're, once again, doing a $5 Friday and asking everyone in our database and on our Facebook page to please donate $5 (or more) and share with family and friends and help us to help more dogs like these defy the odds and
have the life that they deserve!
To donate you can click on the link below or mail a donation to PO Box 250206, Atlanta 30325.
Thank you and a Big Chocolate Kiss from all of our Pups!
Becky Cross
Director
Atlanta Lab Rescue